Used for high precision measurement of conductivity, salinity, TDS and temperature.

The salinity tester CPC-401CPC-401 also measures pH and ORP.

Two power modes, 9V battery and 12V power adapter, can be used indoors or outdoors.

Large screen LCD display for clearer readings.

Conductance measurements do not affect the measurement of PH.

Ultrapure water or brine can be measured over the full range (6 ranges are automatically changed).

Coefficient K (0.01-19.999 cm-1) or buffer solution correction.

Built-in three conductivity cell constants cover the full range, and three built-in pH electrode characteristic memory modes (CPC).

a Temperature compensation coefficient range: 0 -10% / °C.

Calculate the true impact of salinity and improve the accuracy of the measurement.

Introduced TDS coefficient (0.2-1.0, measurable TDS).

The reference temperature can be changed when measuring conductivity.

Calibration: 1 to 5 points buffer solution is automatically recognized, within the given range, the household can change the value of the buffer solution.

The sample solution (NIST) value is automatically corrected as a function of temperature.

The condition of the electrode film is automatically detected.

The salinity tester CPC-401 accurately measures ORP (accuracy: 0.1 mv).

The temperature is measured automatically or manually.

Can display time and date.

It can measure the electrical conductance of plant roots and leaves (special electrode needs to be purchased).

The internal data store records 950 consecutive or independent data with temperature, time and date.

The measurement results and correction data are saved in the memory.

An integrated RS-232 port that can be connected to a computer or printer.
HIGH QUALITY STAINLESS STEEL Manicure Set: All tools are made of premium stainless steel, great hardness and durable edge of each has been polished repeatedly to have a comfort grip,the blade can keep sharp for 10 years after a repetitive polishing and hardening process, give you a smooth and cleaning cutting.
MULTIPLE FUNCTION 7 IN 1 GROOMING KIT: The function of most manicure set is centered on trimming nails, and our set has a variety of functions including hand care and foot care,each tool is elaborately made and can meet your all kinds of care needs in daily life, one set in the hand,living at ease.

High quality, lightweight, folding storage case easy to carry
Available in various colors and patterns for the economic manicure or pedicure set
Perfect for promotional gifts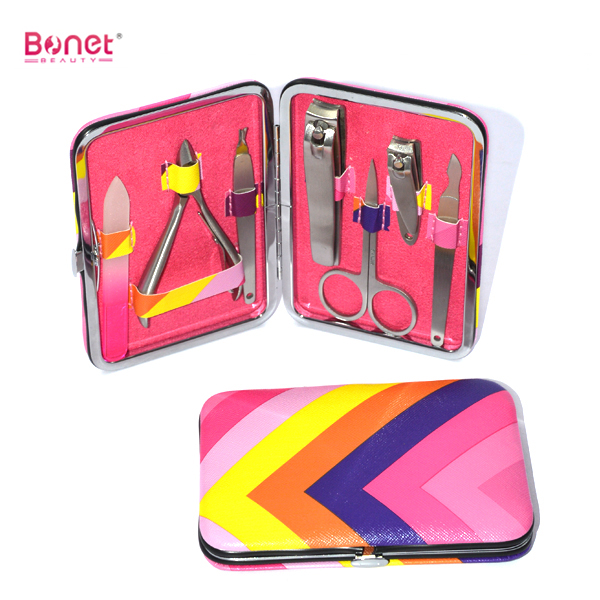 Promotional Manicure Set,Nail Manicure Set,Small Manicure Set,Electric Manicure Set

Bonet Houseware Co., Ltd. , https://www.manicureset.de